MY GAME
---

---



I was waiting anxiously for the delivery truck to arrive one Monday morning in December 2001. I took off work (they know how quirky my hobby is) to make sure I could be here to get the game. A friend of mine was also handy, but I only had him for an hour or so. Unfortunately, the truck was late. I signed for the game, admired the box for a minute, and then slid it (with my friend on the other end) slowly down the stairs into the basement. After that......I was on my own.
It was a great experience seeing how a game looked "fresh" from the factory. Not only that, but the "new-pinball-smell" I heard so much about was true. It smelled like fresh wood being sawed. Amazing.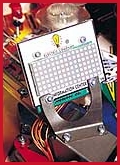 After much unpacking and set-up, I finally played my first game of Monopoly. I didn't know what the hell I was doing, what I was shooting for, or why I lost so quickly. All I noticed were the bright lights, fresh playfield, slick mini-DMD display, Williams-like flippers, nice Stern artwork, sweet looking backglass, and fun dots and sound. I was blown away.
Unlike some other pin-heads, I was expecting a Stern game. I never once thought it was going to be of Williams construction (many who didn't like Monopoly found this to be one of their complaints). I expected the Stern cost cutting measures that they (along with Sega before them) have been using to make it more cost effective. These items include black side-rails, black legs, "florescent" bulb backbox, weaker colors on the artwork, strung-lights, etc. However, what PLD did was take the current Stern default and (within the budgets they were allotted) create something amazing.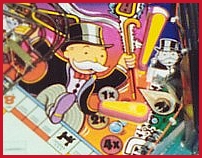 The game was very reliable. I had some burnt out bulbs when I first took it out of the box. The awesome guys at Stern sent me a bunch of replacements. I also heard a "THUD" inside the cabinet one day after about 20 plays. When I lifted the playfield, I was surprised to see that the Water Works motor had fallen out. It probably rattled loose during delivery and finally gave way. A little tightening and the spinning flipper was back to normal (and worked ever since).

I commend PLD and Stern for producing an awesome game. It appears that my taking a chance paid off.





Farewell:

Well, even though I told myself "one NIB game was enough", that proved to be not the case. When I heard Terminator 3 was about to be released by Stern in the summer of 2003, I HAD to have it. But, I HAD to sacrifice a game to pay for it as a result. So, I needed to sell my original NIB game to pay for my new NIB game.

The buyers were from Cleveland. They were wonderful people to meet and hang with the evening they came to get the machine. MPLY has a great new home indeed! "OWN IT ALL!"
My game continues with other pictures from my
previous Monopoly game HERE ......
....or you can check out my Monopoly
un-boxing ceremonies HERE
---
---