RESTORATION
---

---



I sold my original Taxi machine (1993 - 1998) because it had average wear and was showing many internal problems. Since Taxi would always be a keeper in my collection, I began scouting for that "rare" Marilyn TAXI that was well kept, barely on location and in beautiful condition. However, they seemed to never appear. Every TAXI I came across had a damaged cabinet, missing / cracked plastics, scratched up head and translite, and (most importantly) major wear on the playfield.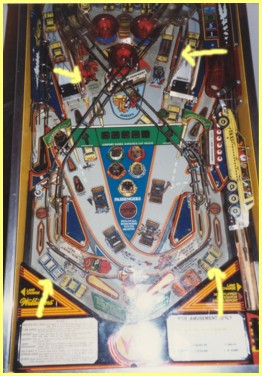 While most of those problems could be restored, playfield wear would be the hardest to reverse. The TAXI mylar sheet (most had it installed or recently removed) only covers the center area of the playfield. This area is usually well protected, with only some slight bubbling inside the mylar itself. Where Taxi's exhibit the most wear/problems is around the outside edges of the mylar sheet (see photo at the right of my original Taxi showing this wear/discoloration).
With only laquer coating to protect the bare wood (pre-diamond plate), the inserts raise and tear, especially around Gorbie and Santa. Also, the bumper area has artwork torn off, and the "gray" color turns a dark black from years of dirt digging into the wood. The picture on the right shows this. Notice the discoloration around the mylar sheet? The gray is not the same shade it originally was. This problem cannot really be corrected and all of the Taxis I find seem to exhibit it.
However, this Taxi I eventually picked up (full story in "my game" section) shows no signs of discoloration or bare wood. It has slight chipping around the Santa and Gorbie inserts (very minor) and wear near Marilyn's foot. It appears the wear began early and the original owner put mylar over top to protect from any more damage. However, seeing a playfield that has the shiny "gray" color intact is amazing. Dave H., the original owner, really took care of this game while in his possession.
Now, it's restoration time.
CLICK ON A LINK BELOW FOR PICTURES / BRIEF INFORMATION ON THE RESTORATION STEPS:
---
---