MY STORY
---

---



My friends, my ex-fiance and I became addicted to Medieval Madness very quickly. They enjoyed the open playfield and the ability to destroy castles or battle evil trolls. I enjoyed the deep rules, humor and challenge of getting a chance to battle for the kingdom. This wide range of appeal is what the designers were looking for and I would have to say that it worked.
The only place I saw MM locally was at Sportland (a recreation area with a decent arcade). It was in "new" condition and played perfect. We would drive to Sportland just to exclusively play MM. Then again, this was not unheard of for a game we really enjoyed. It eventually left, as they all do.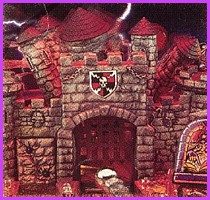 I also located MM at Cedar Point. Ironically, the castle would never register a full blow on the inside. You only could knock down the drawbridge and open the gate. You could shoot inside the castle until your hands turned blue. It would never register. You could never destroy a castle. Sigh!
In the summer of 1999, I had just picked up an Attack From Mars. At this point, it was the most expensive game I had ever purchased. MM was going for about $1,000 more than AFM at the time. I knew I would never be able to afford one....until......
My story continues with information and pictures from my
Medieval Madness game HERE
---

---