MY GAME PICS / INFO
---

---



Here are pictures taken of my previousSOUTH PARK machine.
Click on a thumbnail to enlarge it and for more information.
The following were taken with a disposable camera and scanned.

MY STORY
What can I say? I love the show South Park. I have always been a fan and playing the machine was never out of the question.
I first found South Park at Tinseltown, one of the local movie theaters. In fact, I happened to be working at this location at the time. On my breaks and after work I would plunk a number of quarters into the machine.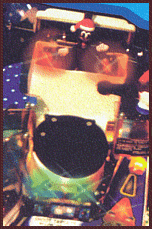 It left there shortly after. Eventually I found it at the Broadway Arcade in New York City. Again, I found myself plunking several quarters into the machine to kill Kenny, shoot the Cartman hole and try to complete all the characters.
Eventually, I picked up the machine. It was in pretty good shape overall, but needed some TLC to get it working. It also had the typical flipper button wear that was touched up by myself the best I could.
Farewell:
After about a year and 1/2, South Park started to show its flaws. Those flaws are the lack of a great-game underneath a great license. Instead, it is an average game under a great license. So, once the excitement over it being South Park goes away, you're left with a game that is no longer fun to play.
---
---