ADD ONS!
---

---



Scared Stiff is well known for the numerous items "removed" before the production games were run.
Luckily, there are many crafty collectors out there who have figured out ways to make the
game look like it was originally designed.
Here are some items I have added "back-in" to the game to replicate
the original vision of the designers.
---
.
The lighted "Dead Heads" skull pile.

The LEDs were removed for "cost" reasons from the Dead Head skull-pile.
Even though the new kit (available from Pin Gizmos) works a tad differently
than designed, since the software was changed, it does bring the
skull pile back to life.
This was added to my game before I bought it.
---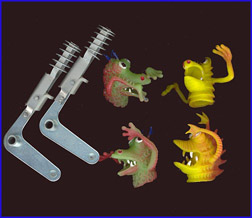 The dancing boogie-men!
Originally, the boogie-men were attached directly to the slingshot kicker so that they would "bounce"
their arms whenever the ball hit the sling (and also dance during the boogie-man boogie mode).
Unfortunately, it was revealed that their arms would eventually fall off after so many plays. So,
they remained stationary. This kit restores the dancing boogie-men.
PS: I bought a couple extra so I can replace one when the arms eventually go flying off. :)

---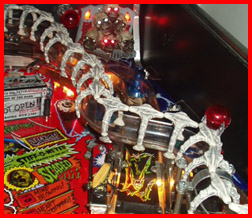 "Wiping" the bones!

The original bones scattered throughout the game were "glow-in-the-dark" and
had a wiped black/white color to them (to match the monster skull at the front of the ramp).
For "cost" reasons, they were not included and only plain white bones were instead. So, I have
colored-in the bones to match the original bones. Although they don't "glow-in-the-dark," they look very nice and almost original. Wiped parts include the inlane bones, flipper-bats, Bony Beast ramp, and claw flasher holders.



---
I also replaced the shooter with an "eyeball" shooter
from Illinois Pinball (per prototype specs).


---
---